Jump Into the Adventure of a Lifetime
Skydiving – Northern California's Premiere Dropzone
Get ready to jump at SkyDance Skydiving! We are excited to share the experience of human flight with you at our friendly facility in Davis, California. SkyDance SkyDiving has been operating in Davis, CA since 1987 and started the first Tandem Skydiving program in the Western United States. We are also are the only dropzone with an FAA waiver to skydive above 28,000′, and we're the only ones in Northern California to tandem skydive above 22,000′. With newly renovated facilities, and a positive, vibrant community, there is no better time to see what the Stoke is all about!
USPA Training Center
We're a Group Member affiliate and designated "Training Center" of the United States Parachute Association (USPA). We work only with current, licensed USPA instructors. Our top two instructors alone have a combined experience of more than 45 years and 25,000 skydives.
For your ease your mind, we go above and beyond when it comes to safety. Our aircraft are maintained to FAA Part 135 standards – a higher standard than the FAA requires for skydiving operations. We require specialized training for all of our jump pilots. Our tandem parachute systems are replaced every two years – even though they're still in good condition.
DoD Approved Training Facility
We're the only facility in Northern California approved for military parachute training by the Department of Defense and are proud to provide training to our local squadrons at Travis Air Force Base and Moffett Field. We have several large offsite landing areas for personnel and heavy drops as well as a variety of turbine aircraft available to suit specific mission needs.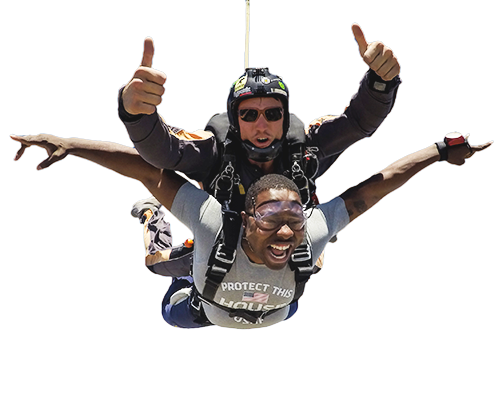 Capture the Moment
You are experiencing the event of a lifetime. Be sure to capture the fun and excitement on video.  SkyDance SkyDiving offers video packages to our skydivers so you can share your experience with friends and family.  Choose between the "Instructor Hand Cam" or the "Freeefall Videographer" packages. Photo Packages
Make Your Skydiving Experience The Best!
Make your reservation with SkyDance SkyDiving, Northern California's premier skydiving location. Book It!
Contact SkyDance SkyDiving